Cuemaster has more than 20 years of experience in providing camera crews to national and international clients. Our main field of experience is ENG/EFP camerawork and multi-camera and OB work. For ENG/EFP work we can supply you with HD cameras (we prefer Panasonic P2, Canon C100 or Canon 5D). We can also provide you with an Premiere Pro edit suite to edit the images we shot. This unit is portable so it can also be used wherever we are shooting.
Our crew speaks fluently Dutch, French, English and Spanish.
If you are planning a production in Belgium, and if you are in need of more than just a camera crew we can help you in finding the right people (director, producer, make-up artists, grip,…) or the right equipment ( light, cranes, power units,…)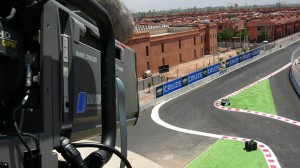 In the field of multi-camera and OB work we are specialized in sports and music productions. We've worked on a variety of productions both in Belgium and abroad. Contact us if you are in need for an experienced, motivated and flexible camera crew.
SOME OF OUR REFERENCES:
London Olympics (Olympic News Channel, OBS) 2012
Snooker PTC (Live for Eurosport, 2011,2012,2013)
Pearl Jam – Images in a Frame (Italy, DVD 2006)
Jean Michel Jarre – Water for Life (Recording, Morocco 2006)
Pascal Obispo ( Brussels, DVD 2007)
WTCC (Live for Eurosport, 2006,2007,2008,2009,2010,2011,2012,2013,2014,2015, 2016)
Le Mans 24h race (Live Host Broadcast, 2010,2011,2012,2013,2014,2015,2016, 2017, 2018,2019)
WEC 6h races (Bahrain 2014, Shanghai 2015, Bahrain 2015)
WEC full season 2016, 2017
Diamond League Athletics, Doha (Live Host Broadcast, 2010,2011)
Beijing Olympics (Cycling, Marathon, Triathlon, Speed walking) 2008
A wide variety of Football, Tennis, Boxing, Cycling events
VRT Journaal (News, Flemish TV, 2008, 2009, 2010)
Headline
Mojuice
D-side